At times it may feel like finding a healthy stack in today's sodium-saturated world is impossible. As true as this may be, there are still tons of other food groups that make great snacks for your children. As Chiropractors, the team at First Choice Chiropractic believe that the path to holistic health begins with proper nutrition.
Here is a list of some of the top Chiropractor recommended healthy kids snack foods:
1. Peanut Butter 
Peanut butter is a classic healthy snack popular among adults and kids alike – and it's easy to see why. You can use peanut butter to replace most sugary treats. It's creamy and packed with proteins and healthy fats. The best part? It also has amazing energy-boosting nutrients. Pack your kids with a peanut butter shake to keep them charged up in school.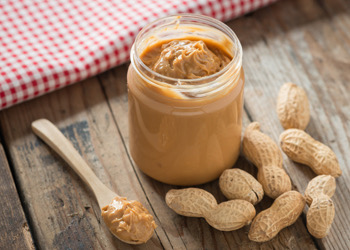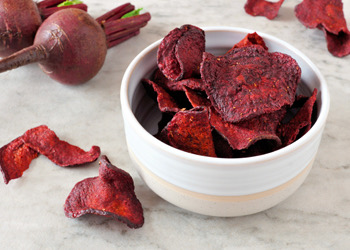 2. Homemade Chips
No childhood is complete without your favourite potato chip. The problem with store-bought chips is that they have alarmingly high levels of sodium and preservatives.
Bored of potato chips? There are tons of other fruits and vegetables you can choose from to turn into homemade chips. Kale, banana, apple, and edamame are among the most common chip-friendly produce. Just look up a recipe online, sprinkle your pan with salt and oil, and get baking. You'll have a batch of affordable and tasty healthy chips in no time.
3. Plain Popcorn  
Who doesn't love the crunch of good old popcorn? We tend to associate popcorn as a "bad snack", but that's because we tend to munch on the flavoured varieties that are riddled with preservatives.
Without all the cheese, salt, and butter, plain popcorn is actually high in fibre and is often touted as a better snack than chips. While it doesn't have the same nutrients and minerals as home baked veggie and fruit chips, plain old popcorn is still a good snack to have for your little one.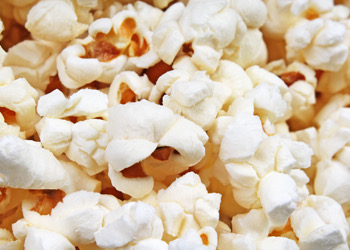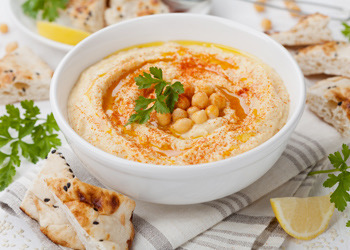 4. Hummus 
Hummus is an incredibly popular appetizer, often used as a dip or spread. It is made out of blended chickpeas, spices, and olive oil. A 100 gram serving of hummus provides 7.9 grams of plant-based protein! It also promotes good digestive health by providing a superb amount of fibre for your gut.
The best part? Hummus is an extremely versatile dish that can be paired with anything: bread, celery sticks, or cucumbers. Add a splash of lemon juice to bring out the zestiness in the hummus and give it a splash of freshness.
5. Granola Bars  
Why choose between oats and nuts when you can have both? Granola bars are an excellent treat for kids because it's usually packed with healthy goodies like nuts and dried fruit. What makes granola bars special is that they don't taste like healthy snacks. They're an easy alternative to candy bars because of the natural sweetness that comes from honey.
Jammed with ingredients that provide more than the daily requirement of vitamins, fibre, and unsaturated fats, granola bars are bite-sized supercharged snacks. Granola bars are a great source of potassium, which helps increase blood flow to the brain. As a result, your child gets a brain power boost while enjoying a tasty snack!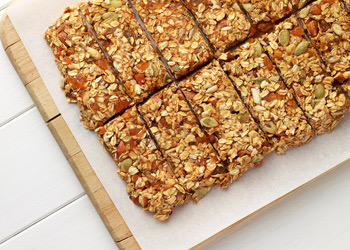 6. Frozen Fruit 
A lot of nutritionists suggest that fruits should be eaten, not blended, because the fibre of the fruits dissolve, thus losing important nutritional qualities. The next best thing to a blended fruit drink is by simply freezing the fruit themselves.
Fruits are filled with antioxidants, vitamins, and minerals that help the immune system. By freezing the fruits as opposed to blending them, you are maintaining the fibre that promotes good digestive health, while reaping the benefits of all the nutrients packed into those treats. For a tastier version, you can pair up frozen fruits with nut butter, peanut butter, or oatmeal.
7. Overnight Oats  
Overnight oats is the perfect treat for kids who enjoy their oatmeal cold. This DIY treat can be custom made to fit your kid's taste. You can even plan your overnight oats of the week with your child as a bonding activity.
Overnight oats are prepared by soaking raw oats in liquids like milk or yoghurt. What you have next day is a sumptuous, healthy, creamy meal that will act as the perfect base for any toppings you want to include. Add a dash of cinnamon for that extra flavour.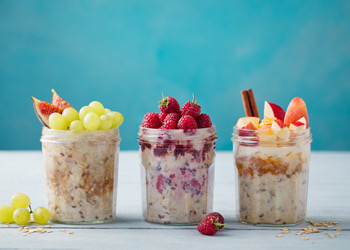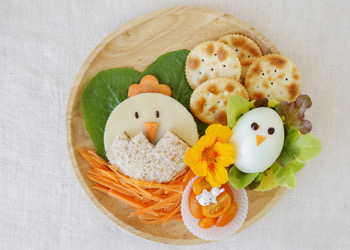 8. Cracker Sandwich
Think of the cracker sandwich as the kid version of your regular sandwich. They're fun and incredibly easy to make, and the small portions make for a great after school snack. These bite-size pieces of fun can be made with anything you can think of.
Whether you want something sweet or savoury is up to you. Make sure you're getting the unsalted variety to get the most health benefits out of your sandwich.